Have you been wanting to set out on a new adventure? Intrigued by the idea of camping, but without leaving behind the allure of luxury? Seeking that getaway to a remote lakefront private experience? This is the place!
Glamping is all the rage these days, and Paradise Cove has brought it here for you! Tucked away on a private peninsula right on Lake Grapevine, you can experience the best of camping, with the glamour of a luxury hideaway.
This luxurious Yurt (you're right, it is a funny name) is located on the border between Grapevine and Southlake, on the shores of Lake Grapevine. Spend your evening sitting by your own private fire pit – right by the lake! Roast marshmallows, make smores, or just watch the sparks flutter into the skies.
Contact us for direct booking availability and pricing
(817)329-1668
Yurt Amenities Include:
AC / Heat
Private bathroom with shower, towels, soap etc.
Fully shaded picnic area
Queen bed with linens, blankets and pillows
Full size sofa sleeper with linens, blankets and pillows
Twin cots with sleeping bags and pillows
Mini refrigerator with freezer
Dining table
Variety of games (monopoly, dominoes, corn hole etc.)
Fishing, swimming, etc.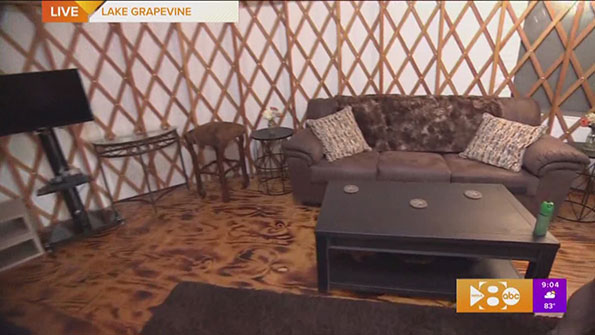 Experience lakeside Glamping in a rich Biodiverse Habitat.
Paradise Cove is recognized as one of the regions leading urban wildlife habitat & migratory bird stop over.
Grapevine, Texas sits on the border of one of the most rare and unique portions of the Great Plains that stretches from Mexico all the way into Canada. Called the Cross-Timbers Region, it is a unique narrow strip that divides the East Texas Blackland Prairies from the West Texas Grasslands Prairies. Thanks to the unique flora and fauna this provides and water sources like Lake Grapevine, this area is part of one of the largest and most diverse flyways for bird migration.
Book Your Wedding Or Event Now!