Have you been wanting to set out on a new adventure? Intrigued by the idea of camping, but without leaving behind the allure of luxury? Seeking that getaway to a remote lakefront private experience? This is the place!
Glamping is all the rage these days, and Paradise Cove has brought it here for you! Tucked away on a private peninsula right on Lake Grapevine, you can experience the best of camping, with the glamour of a luxury hideaway.
This luxurious Yurt (you're right, it is a funny name) is located on the border between Grapevine and Southlake, on the shores of Lake Grapevine. Spend your evening sitting by your own private fire pit – right by the lake! Roast marshmallows, make smores, or just watch the sparks flutter into the skies.
Romantic Getaway
Turn your Glamping adventure into an ultra-romantic getaway!
Spend the evening in magical downtown Grapevine! Experience the ambiance of the Urban Wine Trail. Feast on an amazing candlelight dinner at one of the Grapevine / Southlake's incredible restaurants. And then retire to your private remote lakeside retreat. After an amazing night together, set on the lake with a forest of trees, share a private breakfast for two.
The Paradise Cove Team can help you plan a perfect customized Romantic Getaway to suit your style.
Intimate couples massage in the privacy of your own Yurt.
Private dinner for two, in the Yurt or on the patio overlooking the lake.
Wine or champagne by your private lakeside fire pit
Wake up to a private breakfast.
Inquire today for more info!
Amenities include:
AC / Heat
Private bathroom with shower, towels, soap etc.
Fully shaded picnic area
Queen bed with linens, blankets and pillows
Full size sofa sleeper with linens, blankets and pillows
Twin cots with sleeping bags and pillows
Mini refrigerator with freezer
2 large coolers
Dining table
Variety of games (monopoly, dominoes, corn hole etc.)
Fishing, swimming, kayaking, etc.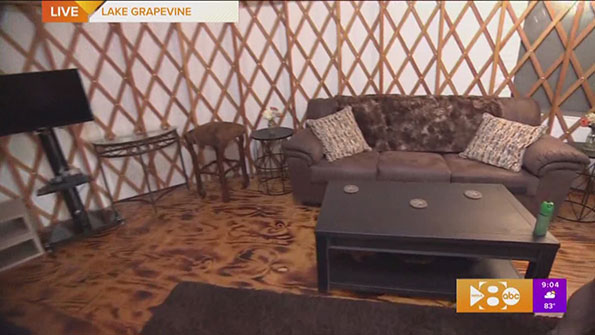 Book Your Wedding Or Event Now!