Wedding Flower Tips | Outdoor Wedding Venues Dallas
The following are tips for brides by brides and florists alike. These wedding flower tips will assist you in avoiding the mistakes often made by brides regarding wedding flowers. These tips will assist in ensuring your wedding day in Paradise Cove's outdoor wedding venues in Dallas is enjoyable for all.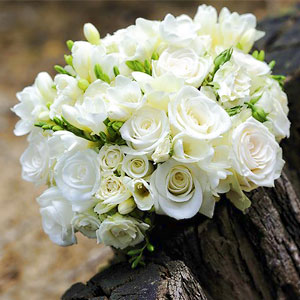 Missing the View
You want your guests to enjoy the beautiful scenery of your outdoor wedding venues in Dallas, don't block the view with tall, large centerpieces.
Be Flexible
Let your florist know your likes and dislikes and what you expect, but have a little flexibility and be willing to accept substitutions. A florist will give you a beautiful bouquet and wedding arrangements even if you only provide them with the overall look, and color scheme you want. Give them room to utilize their creativity and you won't be disappointed.
Select a Florist before Booking your Outdoor Wedding Venues in Dallas.
If you have an idea of the cost for your florist you will be able to budget your wedding better. Don't forget to include a budget for flowers when planning your outdoor wedding venues in Dallas.
Order Flowers Six to Eight Weeks Prior to the Wedding
Flowers come from all over the world, ordering them and the delivery can take six weeks or longer for them to arrive. If you have your heart set on a flower from Europe, ordering early can assure you will receive it. Ordering ahead of time may also save on cost.
Show the Florist Your Likes and Dislikes
A picture is worth a thousand words. Carry pictures of what you like and don't like to the florist. Mark each in bold ink, "Like" or "Don't Like", or use smiley faces.
Avoid Highly Aromatic Flowers
You may love a highly scented arrangement on each table, but guests with allergies will not. Reserve scented flowers for your bouquet and altar flowers. However, if the best man or the maid of honor has allergies, be considerate and reserve aromatic flowers for the bouquet. There is nothing romantic about a wedding ceremony punctuated with the frequent sneezes and runny noses of attendants.
Use Accent Colors
Brides often select flowers to match the bridesmaid dresses, resulting in disappointing photographs. For example, the bridesmaid in a pink gown with pink flowers will cause the flowers to disappear. Lilac or blue would be a better choice, for example.
Ensure Blooms Have the Moisture They Need
A number of flowers won't stand up to even a few hours out of water. Talk to your florist about adding moisture tubes for susceptible blooms or select blooms that are tolerate of dry conditions.
Don't DIY Wedding Flowers
You will be busy in the last few days before the wedding. You don't need the stress of creating dozens – or hundreds of DIY wedding flower arrangements. Hire a florist or recruit reliable friends to provide DIY arrangements. Hiring a florist at the last minute will be costlier than hiring one in the first place.
Oversized Bouquet
Consider the size of your bouquet before ordering it. An oversized bouquet will hide a larger area of a beautiful wedding gown, and will be awkward and heavier to carry. Talk to your florist before ordering an oversized bouquet.
Paradise Cove provides premiere luxury outdoor wedding venues in Dallas for your special day. Contact us for additional information and a personal tour, to book your wedding or for any questions you may have. We will show you our venue and discuss our various options with you. We hope you found our wedding flower tips useful.